《Tomb-Sweeping Day》| Cambiaplc.com
Views: 666 Author: holy Publish Time: 2023-04-05 Origin: Site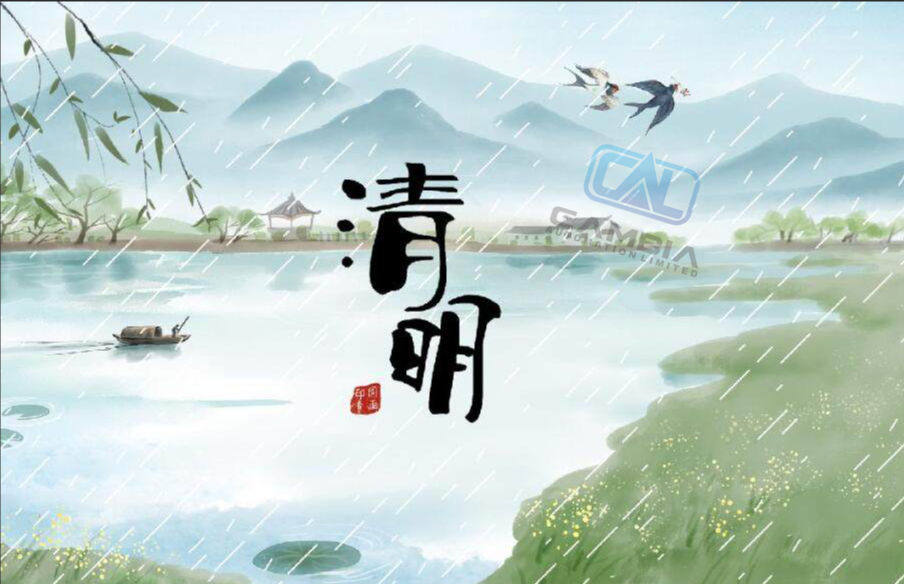 Introduction to 《Tomb-Sweeping Day》

Tomb-sweeping Festival, also known as Outing Qing Festival, Xingqing Festival, March Festival, Ancestor Worship Festival, etc., is held at the turn of mid-spring and late spring. Tomb-sweeping Day originated from the ancestor beliefs of early humans and the etiquette and customs of spring sacrifices. It is the most solemn and grand ancestor worship festival of the Chinese nation. Tomb-sweeping Festival has two connotations of nature and humanities. It is not only a natural solar term, but also a traditional festival. Tomb-sweeping and ancestor worship and outings are the two major etiquette themes of Qingming Festival. These two traditional etiquette themes have been passed down in China since ancient times and continue to this day.




Douzhiyi (or the Sun's Yellow Longitude up to 15°) is the Qingming solar term. The Qingming solar term generally changes between April 4th and 6th in the Gregorian calendar, and is not fixed on a certain day, but April 5th is the most common. The solar term of Qingming is full of vitality, all things "let out the old and accept the new", and the earth presents the image of spring and scenery. It is a good time for youth outings and Qing tomb sacrifices in the suburbs. There are two sayings: 10 days before Qingming and 8 days after Qingming, and 10 days before and after Qingming (the turn of mid-spring and late spring). The nearly 20 days belong to the Qingming ancestor worship festival.




Tomb-sweeping Day is a major traditional spring festival. Sweeping tombs and offering sacrifices to ancestors has been a fine tradition of the Chinese nation since ancient times. It is not only conducive to promoting filial piety and family ties, awakening the common memory of the family, but also promoting the cohesion and identity of family members and even the nation. Tomb-sweeping Day integrates natural solar terms and humanistic customs. It is a combination of the right time, place and people. It fully embodies the harmony and unity of "heaven, earth and people" pursued by the ancestors of the Chinese nation. thought of.
---
Are you looking for Automation PLC&DCS products?

We have a large number of goods in stock, welcome your consultation~
GE
IS210AEDBH4AGD
IS200AEADH4ADA
MV3013-4001A
IS200REBFH1BBA
IS210AEBIH3BED
CM400RGICH1ACB
CM400RGICH1AAA
CM400RGACH1AEC
CM400RGACH2AEC
CM400RGACH2ACB
CM400RGACH1ABB
CM400RGICH1ADC
DS200LDCCH1AKA
531X309SPCAJG1
DS200LDCCH1ALA
DS200LDCCG1ADA
DS200LDCCG1AAA
DS200SIOCG1AEA
DS200IMCPG1CGC
DS200IMCPG1CCA
DS200PCCRG1ACB
DS200IMCPG1CCB
DS200FSAAG2ABA
DS200SHVMG1AGE
FOXBORO
FBM203 P0916AE
FBM202 P0916AC
FBM201 P0916AA
HONEYWELL
900H01-0102
900U01-0100
900CP1-0100
900R08R-0200
ABB
DSQC679 3HAC028357-001
XVC724BE102 3BHE009017R0102
PPC902AE101 3BHE010751R0101
UBC717BE101 3BHE021887R0101
XVC722AE02 3BHB002751R0102
UFC721BE101 3BHE021889R0101
3BHB002953R0105
UFC718AE101 HIEE300936R0101
UFC719AE101 3BHB003041R0101
KUC711AE101 3BHB004661R0101
3BHB003387R0101 3BHL00385P0101 5SHX0845F0001
PM851
TP830
969.54 200K JS 72780
TRICONEX
3501E
YOKOGAWA
AAI143-S00
ADV151-P00
SB401-10
PW482-10
PW482-50
ATB5S-00
ATA4S-00
ADV551-P00
ATD5S-00
AAR181-S00
ADV151-P50
ADV551-P50
ATD5A-00
AAI543-S00
ATR8S-00
SB401-50
ANB10D-425/CU2N
PW302
SB301
CP345
AIP502
AIP532
AIP571
AIP171
AIP578
PW502
YNT511D-P42/KT
HIMA
F6217
F3330
F3236
M2215
F7553
F7133
Z7127
Z7138
Z7116
F3322
Z7136
F7126
F7131
F8650E
F8621A
B9302
B9361
B5233-2
F7546
K7205
K9203
M3443
---