MC-TAMR04 51305907-175 Honeywell LLMUX2 RTD FTA
MC-TAMR04 51305907-175 Honeywell LLMUX2 RTD FTA
Honeywell

USA

1-2days

3 pcs/day

TC-IDD321 , TC-OAV081 , MC-TPIX12
Honeywell MC-TAMR04 51305907-175 ships today. Competitive price, condition is brand new.
TSAI-1620M , TC-PRR021 51309288-225, 51309288-225 , TC-PRR021 , MU-TAMR03, MU-TDPR01 , 10001/R/1 , 10002/1/2
10004/1/1 , 10004/H/F , 51109456-200,51109684-100 , 51197564-100,CC-TCNT01 51308307-175,CC-TAOX01 51308351-175,10006/2/1
MC-TAMR04 51305907-175 Honeywell
Low Level Analog Input Multiplexer RTD FTA - MC-TAMR04
★ CE compliant, conformally coated
★ Redundancy not supported
★ Input channels - 16, w/ solid state relays
★ Teminals - compression
★ Size B - 12 inches (307 mm)
More Honeywell Products
TDC2000
TDC3000
TPS
Experion PKS C200
Experion PKS C300
Experion LS
Experion HS
FSC Fail Safe Controller
FSC FC-TPSU-2430
UCN Boards & Power Supply
FTA Boards
Sensor
Why Choose Us?
FAQ
Q: Is your product new?
A: Yes, brand new.
Q: What is the warranty?
A: 1 year.
Q: What's your advantage?
A: ①Competitve price
②Fast delivery
③Thoughful service
Q: What about payment?
A:100%T/T for stock items before shipping. 30%T/T advance and 70% balance against before shipping for indent.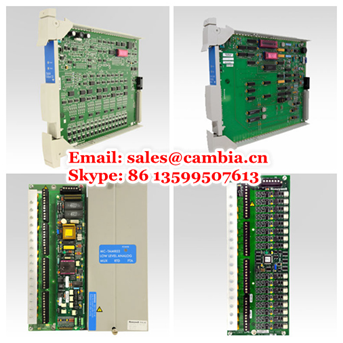 Related Products
51304072-100 IOP CASE EA 51404092-400
51304072-200 MOD CHASSIS ASSM EA 51404092-500
51304074-100 PM CAB 120V FAN ASSM EA
51304074-200 CAB AC FAN 240V 50H Z EA
51304076-100 PWB, D/O STANDBY EA
CC-PAIN01 CC-PAOH01 MC-PAIH03
CC-PDIL01 CC-PDOB01 MC-PAOY22
CC-TAID01 CC-TAIX01 MC-PC1X02
CC-TCNT01 8C-PDODA1 MC-PDOX02
8C-PAIMA1 8C-TDODA1 MC-TAIH14
DSQC500 3HAC3626-1 ABB
DSQC503 ABB
DSQC532B ABB
DSQC532B 3HAC023447-001 ABB
DSQC539 ABB
DSQC541 ABB
DSQC604 ABB
DSQC604 3HAC12928-1 ABB
DSQC608 ABB
DSQC609 ABB