Honeywell MC-TLPA02 51309204-175 Power Adapter Board
Honeywell MC-TLPA02 51309204-175 Power Adapter Board
Honeywell

USA

2-3Days

7PCS/Day

FC-TSAI-1620M, FF-SRS59252, FSC10024/H/F, MC-PAIH03, MC-PAOY22, MC-PC1X02
1 Year Warranty - Tested - Worldwide Shipping - Buy or Quote Online.
MC-TSIM12 51303932-476 | MC-TDIY22 51204160-175 | MC-PAIH03 51304754-150 | FC-TSGAS-1624 | FC-TPSU-2430 | FC-SDI-1624 | FC-SAI-1620M | CC-TCNT01 51308307-175 | CC-TAOX01 51308351-175 | CC-TAIX01 51308363-175| TSXAEM1613TSX-AEM1613| 140CPU67861| TSXP4720| ME4U07AAA| AS-J890-101|TM221ME32TK
Honeywell MC-TLPA02 51309204-175 Power
Adater Board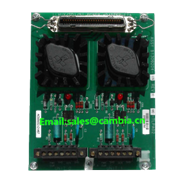 LLMux/SI/SDI Power CE CC
LLMux, SI, SDI Power Adapter FTA - MC-TLPA02
CE compliant, conformally coated
Circuits - 2
Terminals - Compression
Size A - 6 inches (152 mm)
Honeywell FTA Boards
Description : Power Adapter – Conformally Coated
Shipping Weight : 1 Kg
HONEYWELL MC-TLPA02 51309204-175
HONEYWELL MC-TLPA02 51309204-175 We sell is 100% New Original Factory sealed.
We offer 12 month warranty after receiving parcels.
If you order more than one item, please contact us, we can offer further discounts for you.
Contact Way
Manager: Trixie
Email: sales@cambia.cn
Mobile: +86 13599507613
Skype: +86 13599507613 (Whatsapp/ Wechat)
About Cambia
We are specialists in the field of industrial automation.
Inventory: A wide range of new and discontinued parts for a wide range of labels.
Affordable: competitive prices and specific dealer discounts
Reliable: Each product is tested and guaranteed for at least 12 months.
Speed: Fast response and efficient delivery.
Professional: Solid business organization, well-trained engineers.
International: A network of global partners and preferred suppliers.
World's Largest Selection of Controller System Components Available for Immediate Shipment!
Related Items
10307/1/1 Vertical bus terminator
10309/1/1 Dual BNC connector interface module
10310/1/1 Earth leakage detector (ELD)
10310/2/1 Earth leakage detector (ELD)
10313/1/1 5 Vdc & watchdog distribution module
FTA-E-01 Fail-safe digital input FTA (24/48/60 Vdc, 24 channels)
FTA-E-02 Fail-safe digital output FTA (24/48/60 Vdc, 24 channels)
FTA-E-03 Digital output FTA (24 Vdc, 24 channels)
FTA-E-04 Digital output (relay contact) FTA (25 channels)
FTA-E-05 Active digital output (relay) FTA (25 channels)
FTA-T-01 Fail-safe digital input FTA (24/48/60 Vdc, 24 channels)
| | | |
| --- | --- | --- |
| FC-SDO-0824 | 10002/1/2 | 51305900-175 |
| FC-TSAI-1620M | 10005/1/1 | 51306733-175 |
| FF-SRS59252 | 10024/1/1 | 51307149-175 |
| FSC10024/H/F | 10024/F/F | 51308307-175 |
| MC-PAIH03 | 10201/2/1 | 51308363-175 |
| MC-PAOY22 | 1304754-150 | 51309218-175 |
| MC-PC1X02 | 51196694-928 | 51309288-375 |
| MC-PD1X02 | 51197564-200 | 51402573-150 |
| MC-PDOX02 | 51198947-100 | 51405039-175 |
| MC-TAIH04 | 51204160-175 | 51405040-175 |
| MC-TAIH14 | 51204162-175 | 51405043-176 |
| MC-TAMR03 | 51204172-175 | 51410069-175 |
| MC-TAOY22 | 51303932-476 | 51454472-175 |
| MC-TAOY25 | 51304441-175 | 51454473-175 |
| MC-TDID12 | 51304485-150 | 620-0036 |
Email: sales@cambia.cn