Honeywell C300 CC-TDIL01 51308386-175 Controller
Honeywell C300 CC-TDIL01 51308386-175 Controller
Honeywell

USA

2-3Days

7PCS/Day

MC-TAMR03, MC-TAOY22, MC-TAOY25, MC-TDID12,
CC-TDIL01 51308386-175 Cambia Automation Supply. Trusted For Over 13 Years. 1Years Warranty.We sell a variety of brands: ABB, Bently Nevada, Allen Bradley, HIMA, Siemens...
FF-SRS59252, FSC10024/H/F, MC-PAIH03, MC-PAOY22, MC-PC1X02, MC-PD1X02, MC-PDOX02, MC-TAIH04, MC-TAIH14, 3BSE088783R1, 3BSE088859R1, 3BSE076939R1, IC694MDL753C, IC694MDL655, IC200GBI001-CF, BENTLY 200200-05-05-00, 10101/2/3, 10102/2/1
Honeywell CC-TDIL01 51308386-175 Delivery At Any Time,All In Stock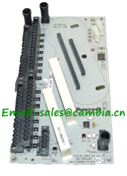 Item No.: CC-TDIL01 51308386-1
Lead Time: 2-3 Days
Product Original: USA
Brand: HONEYWELL
Shipping Port: Xiamen
Payment: T/T
Color: Metal Color
The cable must be able to carry the drive load current. See chapter Technicaldata for the rated currents.ï The cable must be rated for at least 70 °C maximum permissible temperature ofconductor in continuous use. For US, see Additional US requirements.ï The inductance and impedance of the PE conductor/cable (grounding wire) must
be rated according to permissible touch voltage appearing under fault conditions(so that the fault point voltage will not rise excessively when an ground faultoccurs).
EPKS Series_C I/0 Processor (IOP) and FTA Model Numbers
CC-PDIL01 DI - 24

CC-GDIL01

GI/IS Digital Input, Redundant

CC-GDIL21

GI/IS Digital Input, Non-Redundant

CC-GDIL11

GI/IS Digital Input, Redundant

CC-TDIL01

24V DI, Redundant, Coated

CC-TDIL11

24V DI, Redundant, Coated

CC-SDIL01

GI/IS Digital Input Expander
Manager: Trixie
Email: sales@cambia.cn



Skype: +86 13599507613 (Whatsapp/ Wechat)
More Products Available For You
| | | | |
| --- | --- | --- | --- |
| Honeywell | FC-SDO-0824 | 10002/1/2 | 51305900-175 |
| Honeywell | FC-TSAI-1620M | 10005/1/1 | 51306733-175 |
| Honeywell | FF-SRS59252 | 10024/1/1 | 51307149-175 |
| Honeywell | FSC10024/H/F | 10024/F/F | 51308307-175 |
| Honeywell | MC-PAIH03 | 10201/2/1 | 51308363-175 |
| Honeywell | MC-PAOY22 | 1304754-150 | 51309218-175 |
| Honeywell | MC-PC1X02 | 51196694-928 | 51309288-375 |
| Honeywell | MC-PD1X02 | 51197564-200 | 51402573-150 |
| Honeywell | MC-PDOX02 | 51198947-100 | 51405039-175 |
| Honeywell | MC-TAIH04 | 51204160-175 | 51405040-175 |
| Honeywell | MC-TAIH14 | 51204162-175 | 51405043-176 |
| Honeywell | MC-TAMR03 | 51204172-175 | 51410069-175 |
| Honeywell | MC-TAOY22 | 51303932-476 | 51454472-175 |
| Honeywell | MC-TAOY25 | 51304441-175 | 51454473-175 |
| Honeywell | MC-TDID12 | 51304485-150 | 620-0036 |
| Honeywell | MC-TDIY22 | 51304487-150 | 621-1100RC |
| Honeywell | MC-TDOY22 | 51304516-250 | 621-2100R |
| Honeywell | MC-TSIM12 | 51304754-150 | 621-9940C |
| Honeywell | MU-FOED02 | 51305865-275 | 80363969-150 |
| Honeywell | TC-PRR021 | 51305887-150 | 8C-PAIMA1 |