Honewell C200 TK-PRS021 51404305-375 Control Processor
Honewell C200 TK-PRS021 51404305-375 Control Processor
Honeywell

USA

2-3Days

7PCS/Day

51308307-175, 51308363-175, 51309218-175, 51309288-375, 51402573-150
We sell a variety of brands: ABB, Bently Nevada, Allen Bradley, HIMA, Siemens...
51405039-175, 51405040-175, 51405043-176, 51410069-175, 51454472-175, 51454473-175, 51204160-175, 51204162-175, 51204172-175, 51303932-476, 51304441-175, 51304485-150, 51304487-150, 51304516-250, 51304754-150, 51305865-275, 51305887-150, 3500/91
Honewell C200 TK-PRS021 51404305-375 Control Processor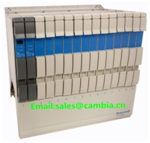 Packaging and Handling
Original packaging
Items are safely packaged in custom shipping cartons for protection.
Shipping
Packaging Details:Original packaging
Port:Xiamen
Lead Time :In Stock
Warranty: one year
Payment

Contact information
Manager: Trixie
Email: sales@cambia.cn
Skype: +86 13599507613(Wechat/ Mobile/ Whatsapp)
Website www.cambiaplc.com
Honeywell
Honeywell International Inc. is an American multinational conglomerate company that makes a variety of commercial and consumer products, engineering services and aerospace systems for a wide variety of customers, from private consumers to major corporations and governments. The company operates four business units, known as Strategic Business Units – Honeywell Aerospace, Home and Building Technologies, Safety and Productivity Solutions, and Honeywell Performance Materials and Technologies.

About Cambia
We major in ABB DCS Foxboro DCS,Honeywell DCS,Westinghouse Ovation DCS,Emerson DeltaV, Bently Nevada,Rockwell Automation, Siemens, Rockwel CPU,Moore APACS,Moore Panel Controllers,Siemens Iskamatic,Schneider PLC,Quantum,Quanten 140CPU,GE Fanuc 90/30,90/70 ,Invensys Triconex DCS, FOXBOROI/A MOTOROLA MVME,, Siemens and aother listed manufacturers.
More
| | | |
| --- | --- | --- |
| 1756-OX8I | 51305887-150 | 330180-50-00 |
| 1756-PA72 | 51305900-175 | 35AE92 |
| 1756-PA75 | 51306733-175 | 3ADT313900R1501 SDCS-CON-4 |
| 1756-PA75R | 51307149-175 | 3ADT314500R1001 SDCS-FEX-4 |
| | 51308307-175 | 3ADT314500R1001 SDCS-FEX-4 |
| 1756-PB72 | 51308363-175 | 3ADT315100R1001 SDCS-POW-4 |
| 1756-PB75 | 51309218-175 | 3ADT315100R1001 SDCS-POW-4 |
| 1756-PB75R | 51309288-375 | 3ADT315100R1001 SDCS-POW-4-COAT |
| 1756-PLS | 51402573-150 | 3ASU21C110 LU6278 DCU30/7 |
| 1756-RIO | 51405039-175 | 3AUA489002B4562 |
| 1756-RM | 51405040-175 | 3BDH000320R02 LD800HSE |
| 1756-RM/A | 51405043-176 | 3BDS008790R09 |
| 1756-RM2 | 51410069-175 | 3BHB002000R0001 B25835S2205K007 |
| 1756-RM2/A | 51454472-175 | |
| 1756-RMC10 | 620-0036 | 3BHB003230R0101 |
| 1756-RMC11 | 621-1100RC | 3BHB012961R0001 5SHX 2645L0002 |
| 1756SC-IF8H | 621-9940C | 3BHE023784R2530 |
| 1756SC-IF8U | 80363969-150 | 3BHE024577R0101 PP C907 BE |
| 1756-TBS6H | CC-PAOH01 | 3BSE003879R1 |
| 1756-WS | CC-PDIL01 | 3BSE019050R200 PFTL-301E-0.2KN |
| 1757-BEM | CC-PDOB01 | 3HAC021905-001 |
| 1757-FFLD2 | | 3HAC021905-001/05 |
| 1757-FIM | CC-TAIX01 | 3HAC024322-001 |
| 1757-FIMRTP | CC-TCNT01 | 3HAC024322-001/01 |
| 1757-plx52 | FC-PDB-0824P | 3HAC028954-004 |
Email: sales@cambia.cn