GE Bently Nevada 3300/47 Differential Expansion Monitor
GE Bently Nevada 3300/47 Differential Expansion Monitor
Bently Nevada

USA

2-3days

12PCS/Day

3500/15 AC 127610-01, 3500/15, 3500/05-01-02-00-00-01, 3500/05-01-01-00-00-00, 3500/05 3500/05-01-02-00-00-01
Factory price {3300/47}. More quantity you need, more discount can be given. Bently Nevada 3300/47 supplier. PLC supplier for over 10 years. Replacement . 1-Year-Warranty. Same Day Shipping. 24 Hours On-Line Service.
1746-NI16I, 1746-NI4, 1746-NI8, 1746-NIO4I, 1746-NIO4V, 1746-NO4I, 1746-NO4V, 1746-NO8I, 1746-NO8V, 1746-NR4, 1746-NR8,3500/53 133388-01, 3500/53, 3500/50M 286566-02, 3500/50M, 3500/50
GE Bently Nevada 3300/47 Differential Expansion Monitor
3300/47 Complementary Input Differential Expansion
141507-01
141508-01
141509-01
141510-01
The 3300 System provides continuous, online monitoring suitable for machinery protection applications, and is designed to fully meet the requirements of the American Petroleum Institute's API 670 standard for such systems.
The system's highly modular design consists of an Instrument Rack, ac or dc Power Supply, System Monitor, and one or more monitor modules chosen to provide the required monitoring functionality.
This building-block approach makes the 3300 System versatile, expandable, and cost-effective as your monitoring requirements change.
Ø System Components
Ø Rack
Ø Power Supply
Ø System Monitor
Ø Monitors
Ø Relays
Ø Applications
Ø Safety Barriers
You Want to Know
Warranty: one year
Condition: brand new and original
Delivery time: Ship Today
Payment term: T/T
Manager: Trixie
Email: sales@cambia.cn
Mobile: +86 13599507613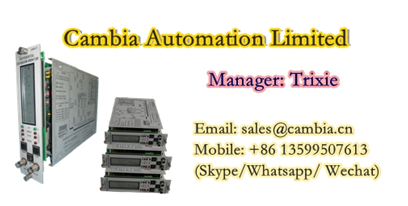 | | | |
| --- | --- | --- |
| PR6423/013-000-CN | 33104-00-10-10-02-05 | 330190-080-01-00 |
| PR6423/10R-040 CON021 | 330980-50-00 | 330180-X1-CN |
| PR6423/004-030 CON021 | 330930-065-02-00 | 330180-X1-05 |
| PR6423/00R-010 CON021 | 330930-060-00-00 | 330180-91-05 |
| PR9268/300-000 | 330930-040-01-00 | 330180-91-00 |
| PR6426/000-030 CON021 | 330910-05-10-02-00 | 330180-90-05 |
| PR6423/10R-030-CN CON021 | 330905-06-14-10-02-00 | 330180-90-00 |
| PR6423/010-010 CON021 | 330878-90-00 | 330180-51-05 |
| PR9268/201-000 | 330878-50-00 | 330180-51-00 |
| MMS6620 | 330851-04-000-023-10-01-05 | 330180-50-05 |
| PR9268/017-100 | 330850-51-05 | 330180-50-00 |
| MMS6120 | 330850-50-05 | 991-01-XX-01-01 |
| UES815S-24AR | 330780-91-05 | 990-08-XX-01-00 |
| MMS6210 | 330780-91-00 | 990-04-70-02-00 |
| PR6426/010-010 | 330780-90-00 | 330173-00-18-10-02-05 |
| PR6423/010-000-CN CON021 | 330780-51-00 | 330130-085-02-05 |
| PR6424/000-010 CON021 | 330780-50-00 | 330130-085-00-05 |
| MMS6312 | 330730-080-02-00 | 330130-085-00-00 |
| PR6423/003-030 CON021 | 330730-080-01-00 | 330130-080-02-05 |
| PR642 CON021 9200-0006n | 330730-080-00-00 | 330130-080-01-00 |
| PR6424/006-030 | 330730-040-03-00 | 330130-080-00-CN |
| PR6423/005-001 | 330730-040-00-00 | 330130-080-00-05 |
| MMS3120/022-100 | 330710-000-060-10-02-00 | 330130-080-00-00 |
| PR6426/010-010 CON021 | 330709-000-050-10-02-00 | 330130-045-02-05 |
| PR6423/010-040 CON021 | 330709-000-040-50-02-00 | 330130-045-01-00 |
| PR6424/010-010 CON021 | 330705-02-18-10-02-00 | 330130-045-00-05 |
| PR9376/010-011 | 330703-000-070-10-02-00 | 330130-045-00-00 |
Email: sales@cambia.cn