Bently Nevada TK-3E TK3-2G Calibration Instrument
Bently Nevada TK-3E TK3-2G Calibration Instrument
Bently Nevada

USA

Ship today

8pcs/day

138708-01 , 136719-01 , 136711-02 , 136188-02
Bently Nevada TK-3E is Calibration Instrument. TK-3E TK3-2G is in stock, brand new and original.
330180-X1-CN , 330180-X1-05 , 330180-91-05, 330180-91-00 , 330180-90-05 , 330180-90-00 , 330180-51-05 , 330180-51-00, 330180-50-05 , 330180-50-00 , 3500/22M 138607-01, 3500/22M , 3500/20 , 3500/15E , 3500/15 DC 133292-01 ,3500/15 127610-01 , 3500/15 , 1900/65A, ICS TRIPLEX, T3401 , T3481 , T7481A , T8100 , T8110B, T8151B , T8151C, 51454416-100
Bently Nevada TK-3E TK3-2G Calibration Instrument
TK-3 Proximity System Test Kit
The TK-3 Proximity System Test Kit simulates shaft vibration and position for calibrating Bently Nevada monitors. It verifies the operating condition of the monitor readouts as well as the condition of the proximity transducer system. A properly calibrated system ensures that the transducer inputs and the resulting monitor readings are accurate.
Specifications
Power Requirements
Electric: 95-125 Vac, 50/60 Hz, 1A minimum 190-250 Vac, 50/60 Hz, 1A minimum
Air: 90 psi (6.2 bar) maximum
Height: 195 mm (7.68 inches)
Width: 299 mm (11.8 inches)
Depth: 248 mm (9.76 inches)
Weight: 5.22 kg (11.5 lb)
Electric Driven TK-3e
177313-01-01 177313-01-02
177313-02-01 177313-02-02
Air Driven TK-3g
177314-01
177314-02

More Bently Nevada Products
Bently Nevada 3500 Monitoring system
Bently Nevada 3300 Monitoring system
Bently Nevada Extension Cable
Vibration and Position Cards
Reciprocating Compressor Monitors
Communication Gateway
Sensor 990-05-XX-02-01
Power supply 3500/15-04-04-01
I/O Module
Chassis
Please Contact Us
Manager: Trixie
Cell: +86 135 99507613 | Email: sales@cambia.cn
Skype: live:bf91906ac68d5030 | Whatsapp: +86 13599507613
Our Seivices
-Promptly reply you within 24 hours
-Fast delivery time
-100% quality assurance
-1 Year warranty
-Have been in the line for many years,has a good reputation
Main Products
1.Allen-Bradley 1756/1769/1771/1785 Series
2.ABB 800xA/Bailey INFI90/DSQC Series
3.Bently Nevada 3500/3300 Monitoring System
4.Schneider Series Quantum 140 series
5.General Electric IC693/IC697/IC698/IS200/DS200 Series
6.SIEMENS MOORE/S5 Series
7.Westinghouse: OVATION/WDPF/MAX1000 system spare parts
8.Invensys Triconex: Redundant fault-tolerant control system, Most modern fault-tolerant controller based on Triple Modular Redundancy (TMR) architecture.
9.Honeywell TDC2000/TDC3000/Experion HS Series
51454416-200 51454416-300 51454416-400 51202921-200 51202921-300 51202971-312
10.YOKOGAWA CS3000 System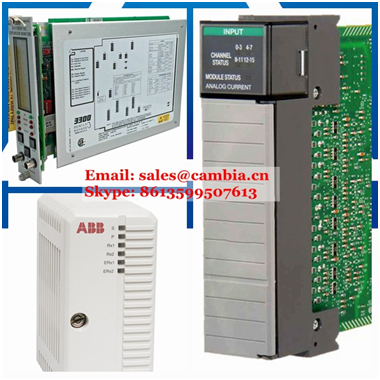 Related Items
| | | | |
| --- | --- | --- | --- |
| 129767-01 | Bently Nevada | DSAB-02C | ABB |
| 137495-01 | Bently Nevada | DSAI110 57120001-DP | ABB |
| 137494-01 | Bently Nevada | DSAI130 57120001-P | ABB |
| 136180-01 | Bently Nevada | DSAI133 57120001-PS | ABB |
| 125736-01 | Bently Nevada | DSAI145 | ABB |
| 133323-01 | Bently Nevada | DSAI155 57120001-HZ | ABB |
| 136188-01 | Bently Nevada | DSAO110 57120001-AT | ABB |
| 136188-02 | Bently Nevada | DSAO120A | ABB |
| 3500/92-01-01-00 | Bently Nevada | DSAO120A 3BSE018293R1 | ABB |
| 3500/92-01-01-01 | Bently Nevada | DSAX110 57120001-PC | ABB |
| 3500/92-01-01-02 | Bently Nevada | DSAX110A 3BSE018291R1 | ABB |
| 3500/92-02-01-00 | Bently Nevada | DSBB110A 57330001-Y | ABB |
| 3500/92-02-01-01 | Bently Nevada | DSBB110A 57330001-Y | ABB |
| 3500/92-02-01-02 | Bently Nevada | DSBC 110 | ABB |
| 3500/92-03-01-00 | Bently Nevada | DSBC 173 | ABB |
| 3500/92-03-01-01 | Bently Nevada | DSBC110 57310256-E | ABB |
| 3500/92-03-01-02 | Bently Nevada | DSBC111 | ABB |
| 3500/92-04-01-00 | Bently Nevada | DSBC111 57310256-K | ABB |
| 3500/92-04-01-01 | Bently Nevada | DSBC173 | ABB |
| 3500/92-04-01-02 | Bently Nevada | DSBC173 57310001-KH | ABB |
| 3500/53-02-00 | Bently Nevada | DSBC174 3BSE012211R1 | ABB |
| 3500/53-02-01 | Bently Nevada | DSBC176 | ABB |
| 3500/53-03-00 | Bently Nevada | DSBC176 3BSE019216R1 | ABB |
| 3500/53-03-01 | Bently Nevada | DSCA 160A | ABB |
Email: sales@cambia.cn & Skype: live:bf91906ac68d5030