Bently Nevada 3500/61 163179-02 Temperature Monitors
Bently Nevada 3500/61 163179-02 Temperature Monitors
Bently Nevada

USA

Ship today

12pcs/day

3500/70M 136449-09, 3500/70M, 3500/65, 3500/64M
Bently Nevada 3500/61 Temperature Monitors 163179-02, 1 Year Warranty. 3500/60-01-00, lowest price in Cambia Automation Limited. Please contact us freely.
We also have: Bently Nevada 3500 / 3000Monitoring system, Bently Nevada Extension Cable, Vibration and Position Cards , Communication Gateway, Power supply, I/O Module, Chassis. 3500/42 125972-02, 3500/42 125672-02, 3500/42, 3500/40M 176449-01, 3500/40M, 8U-PDILA1, 8U-PCNT02

Bently Nevada 3500/61 163179-02 Temperature
Monitors
Specification
The 3500/61 modules provide six channels of temperature monitoring and accept both Resistance Temperature Detector (RTD) and Thermocouple (TC) temperature inputs. The modules condition these inputs and compare them against user-programmable alarm setpoints. The 3500/60 and 3500/61 provide identical functionality except that the 3500/61 provides recorder outputs for each of its six channels while the 3500/60 does not.
Brand/Manufacturer Bently Nevada
Part Number 3500/61
Description Temperature Monitor
Dimensions 2.6x25.3x24cm
Weight 0.8 kg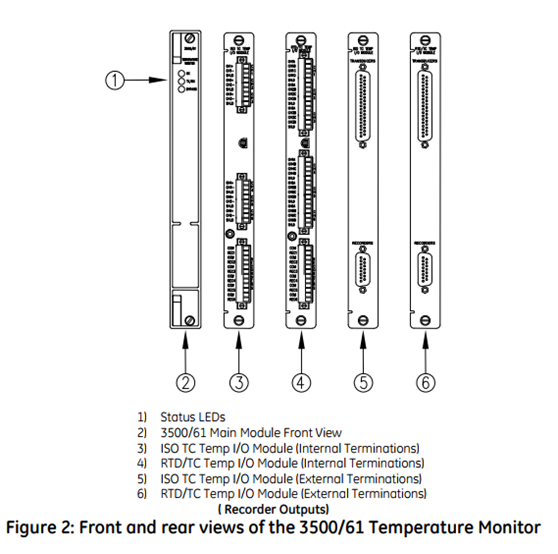 How to contact us?
Manager: Trixie
Email: sales@cambia.cn Skype: +86 13599507613
Cell: +86 13599507613 (wechat whatsapp)
Guarantee
1 Year Warranty Awards
By Cambia Group
Packaging
Products packed in brand new and original box. All will be shock-proof while shipping.
Payment&Shipping
Shipping Method: DHL Fedex UPS TNT..
Shipping Time: 1-2 days
Payment Method: T/T
About Us
Cambia Automation Limited has a large quantity of PLC DCS TSI spare parts.
It also has complete extended warranty maintenance equipment industry chain.
It will be a right choice of you to send us inquiry, work with us.
Allen-Bradley ( 1746-IB32, 1747-L533, 1756-L61, 1769-OF4, 1785-L40B )
Bently Nevada ( 3500/94, 3500/53, 3500/22M, 3500/42M, 330180-90-00 )
Honeywell ( TK-PRS021, CC-TCNT01, 8C-PAIH51, 51309355-001, 10006/2/1 )
ABB ( 07KT97 , AI835, CI854AK01, DSQC639, DO810, PM861AK01, SNAT603 )
Triconex ( 3625, 3503E, 3008, TCM 4353, 4351B, 4409)
ICS Triplex ( T8310, T8431, T8461, T8451, T8110B, T8403, T3481)
GE-Fanuc , Siemens Moore , Bachmann , Foxboro , Woodward , Epro , Ovation , Kuka , Yokogawa , Prosoft , Schneider, Hima , MKS , Keba , Omron , Yaskawa .
Related Products
| | | |
| --- | --- | --- |
| 126615-01 | 128276-01E 131151-01 | 135137-01 |
| 125840-02 | 128275-01F 130944-01 | 134652-01 |
| 125840-01 | 128275-01 | 133819-02 |
| 125800-02 | 128270-01E 131151-01 | 133819-01 |
| 125800-01 | 128240-01 | 133442-01 |
| 125768-01 | 128229-01 | 133434-01 |
| 125760-01 | 127610-01 3500/15 | 133396-01 |
| 125736-01 | 126648-02 | 133323-01 |
| 125720-02 | 126648-01 | 133300-01 |
| 125720-01 | 126632-01 | 129478-01 |
| 125704-01 | 125388-01H | 125388-01 |
| 125680-01 | 125388-01 125388-01H | 3500/92-02-01-00 |
Email: sales@cambia.cn Skype: +86 13599507613