Bently Nevada 125760-01 Data Manager I/O Module
Bently Nevada 125760-01 Data Manager I/O Module
Bently Nevada

USA

2-3days

12PCS/Day

330780-91-00, 330780-90-00, 330780-51-00, 330780-50-00, 330730-080-02-00
Year Warranty - Tested - Worldwide Shipping - Buy or Quote Online .Good Service. Fully Tested. Emergency Shipping. Contact Us Today. Services: New parts, Replacement parts.

330703-000-060-10-02-00, 330703-000-040-10-11-00, 330190-080-01-00, 330180-X1-CN, 330180-X1-05, 330180-91-05, 330180-91-00, 330180-90-05, 330180-90-00,DAPU100 3ASC25H204, DASA110 3ASC25H705/7, DATX100 3ASC25H208, DATX110 3ASC25H209
Bently Nevada 125760-01 Data Manager I/O Module
125760-01 Data Manager I/O Module
125760-01 belongs to 3500/20 Rack Interface Module
Product Specifications
| | |
| --- | --- |
| Brand/Manufacturer | Bently Nevada |
| Part Number | 125760-01 |
| Description | Data Manager I/O Module |
| Dimensions | 2.5x11.2x24.2cm |
| Weight | 0.4 kg |
| product orgin | USA |
If you need a specific firmware or series relating to 125760-01, we probably have it. Please call or email us with your request.
Manager: Trixie
Email: sales@cambia.cn
Mobile: +86 13599507613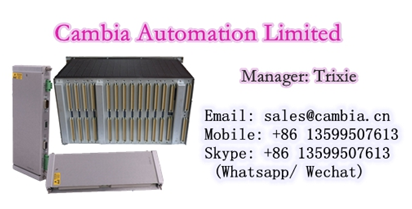 You Want to Know
Warranty: one year
Condition:brand new and original
Delivery time: Ship Today
Payment term: T/T
Our main products
HONEYWELL,ABB Advant OCS,AB Rockwel CPU,Moore APACS,Moore Panel Controllers,Siemens Iskamatic,Schneider PLC,Quantum,Quanten 140CPU,GE Fanuc 90/30,90/70 ,Invensys Triconex, FOXBOROI/A MOTOROLA MVME,MVME147,MVME162,MVME167,MVME177 and so on.
Related Products
3500/33 Bently Nevada 16-channel relay module
3500/34 Bently Nevada TMR relay module
3500/50 Bently Nevada Speed Module
3500/53 Bently Nevada overspeed detection module
3500/60 Bently Nevada temperature monitor module
3500/61 Bently Nevada temperature monitor module
3500/64M Bently Nevada dynamic pressure monitor
3500/65 Bently Nevada16 channel temperature module
3500/70M Bently Nevada reciprocating compressor impact speed monitor
3500/72M Bently Nevada Piston Rod Position Monitor
3500/77M Bently Nevada Cylinder Pressure Monitor
3500/63 Bently Nevada gas monitor
3500/94 Bently Nevada VGA display device
Bentley TSI system hardware
3500 software
3500/01 3500/02 3500/03
3500/05 system framework
3500/08 Troubleshooting Connection Panel
3500 internal barrier
3500 electrical insulation device interface
3500/15 power supply
Email: sales@cambia.cn