Allen Bradley ControlLogix 1756-OF4 1756-OF8 1756-OF8I
Allen Bradley ControlLogix 1756-OF4 1756-OF8 1756-OF8I
Allen Bradley

USA

2-3Days

7PCS/Day

1756-ENET, 1756-HSC, 1756-IA32, 1756-IB16I, 1756-IB16ISOE
1 Year Warranty - Tested - Worldwide Shipping - Buy or Quote Online .Good Service. Fully Tested. Emergency Shipping. Contact Us Today. Services: New parts, , Replacement parts.
1756-CNBR/E, 1756-CP3, 1756-DHRIO, 1756-DMA31, 1756-DMD30, 1756-DMF30, 1756-DNB, 6ES5241-3DA11, 6ES5241-3DA12, 6ES5242-1AA12, 6ES5242-1AA13, 6ES5242-1AA31, 6ES5242-1AA32, 6ES5242-1AA41
About 1756-OF4
The Allen-Bradley 1756-OF4 module is a ControlLogix non-isolated output module.
It has 4 voltage or current outputs available with a current resolution of 15 bits across 21 mA, 650 nA/bit for a voltage resolution of 16 bits across 10.5V, 320 µV/bit. It requires a 20 pin RTB, or Removable Terminal Block housing before it can be installed in the chassis.
The compatible RTBs are the 1756-TBSH and the 1756-TBNH. It is important to ensure that the chassis and power supply have already been installed and grounded prior to installing the module to it with the RTB.
Features
| | |
| --- | --- |
| Part Number: | 1756-OF4 |
| Series: | ControlLogix |
| Module Type: | Analog Output Module |
| Outputs: | 4 Current-Voltage |
| Backplane Current (5Volts): | 150 milliamps |
| Backplane Current (24 Volts): | 120 milliamps |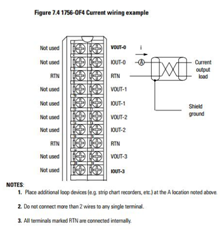 Our Business Time

Manager: Trixie
Email: sales@cambia.cn
Mobile: +86 13599507613
Skype: +86 13599507613 (Whatsapp/ Wechat)
Our Service
Warranty: one year
Condition: brand new and original
Delivery time: Ship Today
Payment term: T/T
YOU MAY ALSO NEED
| | | |
| --- | --- | --- |
| 1746SC-INI4VI | 1756-DHRIO | 1756-L1M2 |
| 1746SC-INO4I | 1756-DMA31 | 1756-L1M3 |
| 1746sc-NO8i | 1756-DMD30 | 1756-L55 |
| 1746-WS | 1756-DMF30 | 1756-L55M12 |
| 1747-ACN15 | 1756-DNB | 1756-L55M13 |
| 1747-AENTR | 1756-DNB/E | 1756-L55M14 |
| 1747-AIC | 1756-EN2F | 1756-L55M16 |
| 1747-AICR | 1756-EN2T | 1756-L55M22 |
| 1747-ASB | 1756-EN2T/B | 1756-L55M23 |
| 1747-BA | 1756-EN2T/C | 1756-L55M24 |
| 1747-L514 | 1756HP-GPS | 1756-L63/A |
| 1747-L524 | 1756-HSC | 1756-L63/B |
| 1747-L531 | 1756-IA16 | 1756-L63S |
| 1747-L532 | 1756-IA16I | 1756-L63XT |
| 1747-L533 | 1756-IA32 | 1756-L64 |
| 1747-L541 | 1756-IB16 | 1756-L65 |
| 1747-L542 | 1756-IB16D | 1756-L71 |
| 1747-L542/B | 1756-IB16I | 1756-L71/B |
| 1747-L542/C | 1756-IB16IF | 1756-L71S |
| 1747-L543 | 1756-IB16ISOE | 1756-L72 |
| 1747-L543P | 1756-IB32 | 1756-L72/B |
| 1747-L551 | 1756-IB32/B | 1756-L72S |
| 1747-L551/A | 1756-IF16 | 1756-L73 |
Email: sales@cambia.cn