Allen Bradley 1794-ACN15 ControlNet Adapter
Allen Bradley 1794-ACN15 ControlNet Adapter
Allen Bradley

USA

1-2Days

17PCS

1794-IA8 , 1794-IB16 , 1794-IE12 , 1794-OA8
1794-ACN15 Allen Bradley ControlLogix Flex ControlNet Adapter, Brand New, 1 Year Warranty.
A-B 1769-OF4 , 1794-IR8 , 1794-IRT8 , 1769-OW8 , 1769-PA2 , 1756-OF8 , 1756-A13, 1764-AND, 1734-PDN, 1771-IQ, 1746-NI16V
Bently Nevada 3500/94 , 3500/93 135799-01 , 3500/22M 288055-01 , 138607-01 , 3500/92 136180-01
1794-ACN15
1) Allen-Bradley / Rockwell
2) Flex I/O ControlNet Adapter Module
3) 24 VDC
4) OPEN STYLE
5) DIN MOUNT
6) IP20
7) Weight: 0.45 lbs
8) BRAND NEW
9) 1 YEAR WARRANTY
Full description
Allen-Bradley 1794-ACN15 ControlNet Flex I/O Adapter Module interfaces Flex I/O modules an I/O scanner port across a communication network.
The adapter contains a built-in power supply, which converts 24V DC to 5V DC for the backplane to power the Flex I/O modules.
One 1794-ACN15 is capable of communicating with up to eight I/O modules, permitting connection to 256 digital input/output points,
or 64 analog input points / 32 analog output points, or a mix to meet the project needs. Network : ControlNet; I/O Module Capacity: 8; Communication Rate: 5 Mbps.
We also have other A-B Products
SLC500
CompactLogix PLC
ControlLogix
PLC-5
MicroLogix PLC
PanelView
ProSoft
ICS TRIPLEX
If you are interested, please don't hesitate to contact us. Email: sales@cambia.cn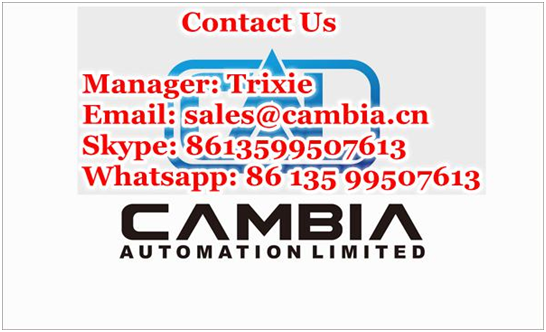 Other main brands
Allen-Bradley (1746,1747,1756,1769,1794,2711P..)
Triconex Invensys (3008,3664,3805E.3704E,3700A 4351B...)
YOKOGAWA (CP345,CP451-10,AMM12C,AAI141-S00...)
ABB (07KT98 WT98,07KT97 WT97,DSQC679,IMASI23,IMDSO14...)
Ovation (1C31194G01,1C31197G01,5X00106G01,1C31125G02...)
Bently Nevada (3500/42M ,3500/22M,3500/95.3500/15...)
Hima (F3330,F3236,F6217,F7126,F8621A....)
FOXBORO (FCP270,FBM203,FBM204,FBM217,FMB231...)
GE (IC693,IC697,IC695,IS200,IS215,DS200...)
BACHMANN (MPC240,CM202,DI232,MPC240,NT255,AIO288...)
More choices
| | | | |
| --- | --- | --- | --- |
| Allen Bradley | 1756-OB16 | Allen Bradley | 1771-DMC |
| Allen Bradley | 1756-OF4 | Allen Bradley | 1771-IBN |
| Allen Bradley | 1756-OW16I | Allen Bradley | 1771-OAN |
| Allen Bradley | 1756-PB72 | Allen Bradley | 1771-P7D |
| Allen Bradley | 1756-PSCA2 | Allen Bradley | 1771-OFE1 |
| Allen Bradley | 1756-RM2 | Allen Bradley | 1785-L20C |
| Allen Bradley | 1756-TBCH | Allen Bradley | 1785-L40B |
| Allen Bradley | 1756-L55M22 | Allen Bradley | 1785-L60B |
| Allen Bradley | 1757-SRM | Allen Bradley | 1785-L80B |
| Allen Bradley | 1769-ECR | Allen Bradley | 1785-L30B |
| Allen Bradley | 1769-OA16 | Allen Bradley | 1785-BEM |
| Allen Bradley | 1769-OF4 | Allen Bradley | 1785-V40L |
| Allen Bradley | 1769-OB32 | Allen Bradley | 1794-ACN15 |
| Allen Bradley | 1769-OW16 | Allen Bradley | 1794-IR8 |
| Allen Bradley | 1769-IQ16 | Allen Bradley | 1794-OF4I |
| Allen Bradley | 1769-IQ32 | Allen Bradley | 1794-OE8H |
| Allen Bradley | 1769-L32E | Allen Bradley | 1794-IB32 |
| Allen Bradley | 1769-L33ER | Allen Bradley | 1794-0B8 |
| Allen Bradley | 1769-L35E | Allen Bradley | 2711P-T6C20D8 |
| Allen Bradley | 1769-PA4 | Allen Bradley | 1769-L30ERMS |
| Allen Bradley | 1769-IF8 | Allen Bradley | 1769-L24ER-QB1B |
| Allen Bradley | 1769-OF8C | Allen Bradley | 1769-L35CR |