Allen Bradley 1756IB32 ControlLogix Digital Input Module
Allen Bradley 1756IB32 ControlLogix Digital Input Module
Allen Bradley

USA

2-3Days

7PCS/Day

1747-SN, 1747-UIC, 1756-2WS, 1756-A10, 1756-A13
Allen Bradley 1746-ib16 Analog Combination I/O Module. Great prices, high performance. Allen-Bradley 1746-ib16 brand new & guaranteed. Advanced technology and factory price. 1-Year-Warranty. 24 Hours On-Line Service. Same Day Shipping.
1756-L73 | 1756-L75 | 1756-OA16 | 1756-OB16 | 1756-OF4 | 1756-OW16I | 1756-PB72 | 1756-PSCA2 | 1756-RM2 | 1756-TBCH | 1756-L55M22
Allen Bradley 1756-IB32 ControlLogix Digital Input Module
Product Specifications
| | |
| --- | --- |
| Brand/Manufacturer | Allen-Bradley |
| Part Number | 1756-IB32 |
| Alternate Part Number | 1756IB32 |
| Description | ControlLogix 32 Pt 12/24V DC D/I Module |
| Dimensions | 23.3x18.2x5.3cm |
| Weight | 0.3 kg |
Our Advantages:
1.New and Original
2.In Stock
3.Best Price
4.Fast Delivery
5.One Year Warranty
Manager: Trixie
Email: sales@cambia.cn
Mobile: +86 13599507613 (Skype/Whatsapp/ Wechat)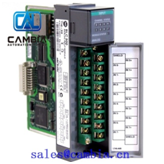 1756 ControlLogix I/O Specifications
The ControlLogix® Architecture provides a wide range of input and output modules to span many applications, from high-speed digital to process control. The ControlLogix architecture uses Producer/Consumer technology, which allows input information and output status to be shared among multiple ControlLogix controllers. Each ControlLogix I/O module mounts in a ControlLogix chassis and requires either a Removable Terminal Block (RTB) or a 1492 interface module (IFM) to connect all field-side wiring. RTBs and IFMs are not included with the I/O modules. They must be ordered separately.
AC Digital Catalog Numbers:
1756-IA8D, 1756-IA16, 1756-IA16K, 1756-IA16I, 1756-IA16IK, 1756-IA32, 1756-IA32K, 1756-IM16I, 1756-IM16IK, 1756-IN16, 1756-OA8, 1756-OA8D, 1756-OA8E, 1756-OA16, 1756-OA16K, 1756-OA16I, 1756-OA16IK, 1756-ON8
Contact Catalog Numbers:
1756-OW16I,1756-OX8I
Analog Catalog Numbers:
1756-IF6CIS, 1756-IF6I, 1756-IF8, 1756-IF8K, 1756-IF8I, 1756-IF8IK, 1756-IF16, 1756-IF16K, 1756-IF4FXOF2F, 1756-IF4FXOF2FK, 1756-IR6I, 1756-IRT8I, 1756-IRT8IK, 1756-IR12, 1756-IR12K, 1756-IT6I, 1756-IT6I2, 1756-IT16, 1756-IT16K, 1756-OF4, 1756-OF4K, 1756-OF6CI, 1756-OF6VI, 1756-OF8, 1756-OF8K, 1756-OF8I, 1756-OF8IK
HART Interface Catalog Numbers:
1756-IF8H, 1756-IF8HK, 1756-IF8IH, 1756-IF8IHK, 1756-IF16H, 1756-IF16HK, 1756-IF16IH, 1756-IF16IHK, 1756-OF8H, 1756-OF8HK, 1756-OF8IH, 1756-OF8IHK
Specialty Catalog Numbers:
1756-CFM, 1756-CMS1B1, 1756-CMS1C1, 1756-HSC, 1756-LSC8XIB8I, 1756-LSC8XIB8IK, 1756-PLS
More
| | | |
| --- | --- | --- |
| 330190-080-01-00 | 10002/1/2 | 3500/93 135799-01 |
| 330180-X1-CN | 10005/1/1 | 3500/93 135785-01 |
| 330180-X1-05 | 10024/1/1 | 3500/92 136180-01 |
| 330180-91-05 | 10024/F/F | 3500/92 |
| 330180-91-00 | 10201/2/1 | 3500/90 |
| 330180-90-05 | 1304754-150 | 3500/77M 140734-07 |
| 330180-90-00 | 51196694-928 | 3500/72M 176449-08 |
| 330180-51-05 | 51197564-200 | 3500/72M |
| 330180-51-00 | 51198947-100 | 3500/70M 136449-09 |
| 330180-50-05 | 51204160-175 | 3500/70M |
| 330180-50-00 | 51204162-175 | 3500/65 |
| 991-01-XX-01-01 | 51204172-175 | 3500/64M |
| 990-08-XX-01-00 | 51303932-476 | 3500/62 |
| 990-04-70-02-00 | 51304441-175 | 3500/61 163179-02 |
| 330173-00-18-10-02-05 | 51304485-150 | 3500/61 |
| 330130-085-02-05 | 51304487-150 | 3500/60 |
| 330130-085-00-05 | 51304516-250 | 3500/53 133388-01 |
| 330130-085-00-00 | 51304754-150 | 3500/53 |
| 330130-080-02-05 | 51305865-275 | 3500/50M 286566-02 |
| 330130-080-01-00 | 51305887-150 | 3500/50M |
| 330130-080-00-CN | 51305900-175 | 3500/50 133388-02 |
| 330130-080-00-05 | 51306733-175 | 3500/50 |
| 330130-080-00-00 | 51307149-175 | 3500/46M |
| 330130-045-02-05 | 51308307-175 | 3500/45 176449-04 |
Email: sales@cambia.cn