Allen-Bradley 1756-OW16 1756-OW16I ControlLogix 16
Allen-Bradley 1756-OW16 1756-OW16I ControlLogix 16
Allen Bradley

USA

2-3Days

10PCS/Day

1756-BATA, 1756-CN2, 1756-CNBR, 1756-DMA31, 1756-DNB
Cambia have Allen-Bradley 1756-OW16I available to buy from our SLC500 section. Buy online now with next day delivery available for in stock products.
1756-A4, 1756-A7, 1756-BA1, 1756-BA2, 1756-BATA, 1756-CN2, 1756-CN2R, 1756-CN2R/B, 1756-CNB, 1756-CNB/E, 1756-CNBR, 6AV3505-1FB12, 6AV3515-1EB00, 6AV3515-1EB01, 6AV3515-1EB30
Product Description
| | |
| --- | --- |
| Mfr. Part Number | 1756-OW16I |
| Manufacturer | Allen-Bradley / Rockwell Automation |
| Description | Allen-Bradley 1756-OW16I ControlLogix Isolated Relay Output Module 16-Points |
| Full Description | Allen-Bradley 1756-OW16I ControlLogix Normally Open Isolated Relay Output Module, 16 Points (36 Pin) |
Packaging&Shipping
*1-2 days delivery after receive the quantity and payment
*We will pack the goods well with exporting packages to make sure all goods in a good condition during storage and delivery
*Product are shipped by DHL , Fedex, TNT, EMS , or transport by air and sea for the goods with large quantity
Payment
T/T
If you have any questions, please feel free to ask us
Trixie
Email: sales@cambia.cn | Mobile: +86 13599507613
Wechat : +86 13599507613 | Skype/ Whatsapp: +86 13599507613
company website:www.cambiaplc.com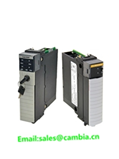 Cambia Also Supply
ControlLogix module
Our Bulletin 1756 ControlLogix® rack-based modules provide comprehensive digital, diagnostic digital, analog, motion control, special-function I/O, and calculation modules to meet a variety of application needs.
1756-L61 1756-ENBT 1756-CNBR 1756-DNB 1756-PA75
Allen-Bradley:
1746 SLC I/O Module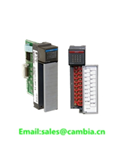 The Bulletin 1746 SLCTM I/O module is part of our SLC 500 control platform. Rockwell Automation announced that our Bulletin 1746 I/O module will be discontinued on August 31, 2018 and will no longer be sold. Customers are advised to upgrade to Bulletin 5069 for use with the Logix Control Platform
1746-IB16 1746-OW16
Bently Nevada
Bently Nevada 3500 Series Machinery Monitoring System

GE's Bently Nevada 3500 Monitoring System provides continuous, online monitoring suitable for machinery protection and asset condition monitoring applications. It represents our most capable and flexible system in a traditional rack-based design and offers numerous features and advantages not provided in other systems
3500/05 3500/15 3500/20 3500/42 3500/25 3500/32 3500/34 3500/92 3500/xx
EMERSON OVATION
Ovation is a Distributed Control System (DCS) produced by Emerson Process Control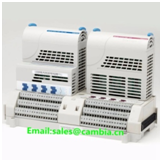 1:OvationTM
OCR1100 Controller
Perform simple or complex modulation and sequential control strategies and data acquisition
2:OvationTM I/O
A full set of I/O modules to support long-term process reliability and scalability
:1C311224G01 1C311227G01
5X00119G01 5X00121G01
Triconex
Triconex surpasses the functional safety system in the general sense and provides factories with a full set of safety-critical solutions and life-cycle safety management concepts and services. Throughout the entire installation and enterprise, Triconex keeps the company's safety, reliability, stability, and profitability in sync.
3008 3501E 3502E 3503E 3504E 3511 3601E
3604E 3607E 3623T 3624 3625 3636R
3664 3700 3700A 37013703E
Email: sales@cambia.cn