ABB S800 I/O DI840 3BSE020836R1 Digital Input Unit
ABB S800 I/O DI840 3BSE020836R1 Digital Input Unit
ABB

Sweden

2-3Days

7PCS/Day

TK801V006, TK801V012, TB807, TB825
Get a Quote Today - Fast Shipping! New Items Added Daily. We Can Ship Same Day.
PP845, PP846, PP865,PP871, PP874, PP877, TK854V030,TK212ACB801, DI802,SD833, SD834, SS832, AI893, AI895, AO895, TB805, TB806, TB845, TB846, TK801V003, 3HAC14549-3/10A, 3HAC14550-4, 3HAC14550-4/09A, DI803, DO801, DO802, SD831, SD832, 3HAC17484-9
ABB S800 I/O DI840 3BSE020836R1 Digital Input Unit
GeneralInformation

Product ID

3BSE020836R1

ABB Type Designation

QTP-Order 3BSE020836R1

Catalog Description

QTP-Order 3BSE020836R1

Long Description

QTP-Order 3BSE020836R1

SWEDEN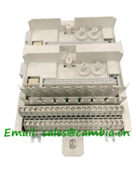 Technical Information
Single or redundant.
Advanced On-Board diagnostics.
Use Module Termination Unit
TU810, TU812, TU814, TU818, TU830, TU833,
TU838, TU842, TU843, TU852.
ABB Family
1) AC800M series controller I/O module
2) AC800F series controller module
3) AC31 series controller module
4) 800xA series modules
5) Bailey INFI 90 module
6) DSQC robot module spare parts
7) Advant OCS system spare parts
8) H&B Freelance
9)S800 I/O

(I belong here )
Benefits: ( I Will Give You A Reply Immediately)
The colour: NEW Original
Warranty: 12 months.
Lead time: 1-2 working days.
Terms of payment: Bank Transfer
Courier partners: DHL, UPS, TNT, FedEx and EMS.We will provide tracking number.
If you have any questions, please feel free to contact us
Other Competitive Products
C300/0010/STD

10002/1/2

3500/42M




C87-11006

10005/1/1

3500/42 135489-01

CI520V1

10024/F/F

3500/42 125672-02

CI522

10201/2/1

3500/42




CI522A 3BSE018283R1

1304754-150

3500/40M 176449-01

CI526

51196694-928

3500/40M




CI531 3BSE003825R1

51197564-200

3500/34




CI532V01 3BSE003826R1

51198947-100

3500/33 149986-01

CI532V02

51204160-175

3500/33




CI532V03 3BSE003828R1

51204172-175

3500/32




CI532V04

51303932-476

3500/25 149369-01

CI540 3BSE001077R1

51304441-175

3500/25 125792-01

CI570

51304485-150

3500/23E




CI590 3BHT340092R1

51304487-150

3500/22M 288055-01

CI615 3BHT300024R1

51304516-250

3500/22M 138607-01

CI626A 3BSE005023R1

51304754-150

3500/22M




CI626A 3BSE005023R1

51305865-275

3500/20