ABB PU515A 3BSE032401R1 Advant OCS
ABB PU515A 3BSE032401R1 Advant OCS
ABB

Sweden

2-3Days

7PCS/Day

DC523 1SAP240500R0001, DCF503-0050, DCP02, DCP10
Get a Quote Today - Fast Shipping! New Items Added Daily. We Can Ship Same Day.
DI810 3BSE008508R1, DI811, DI811 3BSE008552R1, DI821 3BSE008550R1, DIGITRIC 500 61615-0-1200000, DIGTRIC 500 DLM01, DLM02, DO620 3BHT300009R1, DO630 3BHT300007R1, DI803 3BSE022362R1, DI810, 3BSE001245R1 3BSC640008R1
ABB PU515A 3BSE032401R1 Advant OCS
General Information
Product ID: 3BSE032401R1
ABB Type Designation: PU515A
Catalog Description: PU515A Real-Time Accelerator, RTA, board.
Technical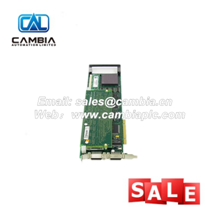 Used with Master and MOD eDCN systems.
Installed in 3.3V or 5V 32-bit 33MHz PCI or
100/133MHz PCI-X slot (runs at 33MHz).
Including CS503V1 dual channel MB300
communication module and 16Mbyte RAM.
With two 15-pin female Dsub connectors.
Can also be installed in 64-bit slot.
With 16Mbyte memory.
About ABB
ABB is a pioneering technology leader that works closely with utilities, industry, transportation and infrastructure customers to write the future of industrial digitalization and realize value.
More Brand
ABB:
1) AC800M series controller I/O module
2) AC800F series controller module
3) AC31 series controller module
4) 800xA series modules
5) Bailey INFI 90 module
6) DSQC robot module spare parts
7) Advant OCS system spare parts
8) H&B Freelance
Bentley Nevada :
1) Bently 3500 Monitoring system
2) Bently 3300 Monitoring system
Schneider:
Quantum 140 series :Modicon M340
Modicon Premium :CPU Processor Module,Communication module,etc


Emerson:
1) Ovation System DCS Card
2) DeltaV system Dual Channel Redundancy Safety System, Redundancy Controller
ABB

APBU-44C 64669982F

APBU-44C 64669982F

ABB

AV31




AV31

ABB

AV43




AV43

ABB

AV43 AV 43

AV43 AV 43

ABB

AX460

AX460

ABB

AX460/50001

AX460/50001

ABB

AX521

AX521

ABB

AX521 B4

AX521 B4

ABB

AX645 3BHB001914R1

AX645 3BHB001914R1

ABB

BRC100 BRC-100 P-HC-BRC-10000000

BRC100 BRC-100 P-HC-BRC-10000000

ABB

BRC-100 P-HC-BRC-10000000

BRC-100 P-HC-BRC-10000000

ABB

BRC300 PHCBRC30000000

BRC300 PHCBRC30000000

ABB

BRC400 P-HC-BRC-40000000

BRC400 P-HC-BRC-40000000

ABB

BRC410 SPBRC410

BRC410 SPBRC410

ABB

BSM80C-275AFX

BSM80C-275AFX

ABB

BSTC176 SE98424140

BSTC176 SE98424140

ABB

C100/0100/STD

C100/0100/STD

ABB

C100/0200/STD

C100/0200/STD

ABB

C1900/0263/0260A C1900/0263

C1900/0263/0260A C1900/0263

ABB

C1900/0363 C1900/0363/0360A

C1900/0363 C1900/0363/0360A

ABB

C300/0010/STD

CMA120 3DDE300400
Email:sales@cambia.cn