ABB DO630 3BHT300007R1 Digital Output Module
ABB DO630 3BHT300007R1 Digital Output Module
ABB

Swizerland

2-3days

12PCS/Day

3HAC028954-004, 3HAC028954-004/03, 3HAC031683-004, 3HAC14549-3,
1 Year Warranty - Tested - Worldwide Shipping - Buy or Quote Online.

3HNP01759-1, 3HNP03386-1, 3HNP04014-1, 3HNP04378-1, 424K1105, 57617659 D 2/2, 5SHY, 3545L0010, 3BHB013088R0001, 3BHE009684R0101, 3BHB006485R0001, 3BHE009681R0101, 3HAC031683-004, 3HAC14549-3,3BSE008510R0001,3HAC028954-004
Number: DO630 3BHT300007R1
Brand: ABB
Technical
Product Type: I-O_Module
Channel Type: N/A
Technical Information: S600 I/O Digital output Module
16 channels, 24-250 V a.c./d.c., relay contacts
Note! This part is exempted from the scope of 2011/65/EU (RoHS)
as provided in Article 2(4)(c), (e), (f) and (j) therein
(ref.: 3BSE088609 – EU DECLARATION OF CONFORMITY- ABB Advant Master Process Control System)
About Us
We are professional in industrial automation parts, including PLC, DCS, Modules, Control boards, Controller, HMIs, Screens & Displays, Frequency converter, Transmitters, Sensor, Soft starter, Servo Drives, Motors, AC Inverter Drives, DC Drives, Profibus Interbus, Positioners, Values, Switches, IGBT, Instruments and Equipments etc.
Cambia Automation Ltd
Attn: Ms. Trixie
Skype: live: bf91906ac68d5030
MSN: +86 13599507613
Email: sales@cambia.cn
Web: www.cambiaplc.com
Our advantages:
1. New and Original
2. In Stock
3. Best Price
4. Fast Delivery
5. One Year Warranty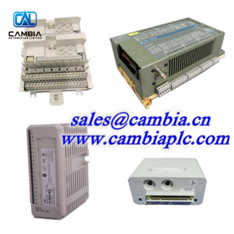 Manufacture: ABB
086348-001

07KT94




086364-001

07KT94 GJR5252100R3261

07AI91 WT91 GJR5251600R4202

07KT97 WT97 GJR5253000R0270

07CR41-C12

07KT97 WT97 GJR5253000R4270

07DC91

07KT98




07DC91 GJR5251400R0202

07KT98 GJR5253100R0160

07DC92

07KT98 GJR5253100R0278

07DC92 GJR5252200R0101

07KT98 WT98 GJR5253100R0120

07KT98 WT98 GJR5253100R0270

07DI92

07KT98 WT98 GJR5253100R0278

07DI92 WT92 GJR5252400R4101

07KT98(WT98)

07EA61R1 GJV3074351R1

07KT98G GJR5253100R0120

07EA63R1




07EA90-S GJR5251200R0101

07MK92 GATS110098R0161

07EB62R1

07MK92 GJR5253300R1161

07KP60R101

07MK92 GJR5253300R3161

07KP64 GJR5240600R0101

07NG61R1




07KP90

07PS62R2




07KR264

07SK90R1




07KR51

07ZE61R302 GJV3074321R302

07KR91 GJR5250000R0101

07ZE63R302

07KT92

086363-002 OSPS2