1756-IA16 Allen Bradley ControlLogix 1756-IA16I
1756-IA16 Allen Bradley ControlLogix 1756-IA16I
Allen Bradley

USA

1-2day

3 pcs/day

1756-OF8,1756-L61,1756-L71,1756-L72
1756-IA16 1756-IA16I Allen Bradley ControlLogix are available, brand new and 1 year warranty. Welcome to contact us for price.
We also have many Allen-Bradley ControlLogix 1756 modules, processor, power supply and rack.
1756-OB16I, 1756-OB32, 1756-OB32/A, 1756-OF4, 1756-OF6VI, 1756-OF8, 1756-OF8H, 1756-OF8I, 1756-OG16, 1756-OV16E, 1756-OV32E, 1756-OW16I, 1756-OX8I, 1756-PA72, 1756-PA75, 1756-PA75R, 1756-PAR2, 1756-L64, 1756-L65, 1756-L71, 1756-L71/B, 1756-L71S, 1756-L72, 1756-L72/B, 1756-L72S, 1756-L73, 1756-L73S,1771-IFE, 1771-IR, 1771-CFM, 1771-DL, 1771-IFF. 1771-IN, 1771-IBD, 1771-OFE1, 1771-OFE2
1756-IA16 Allen Bradley ControlLogix 1756-IA16I
Technical Data
1756 ControlLogix I/O Specifications
AC Digital Catalog Numbers 1756-IA8D, 1756-IA16, 1756-IA16K, 1756-IA16I, 1756-IA16IK, 1756-IA32, 1756-IA32K, 1756-IM16I, 1756-IM16IK, 1756-IN16, 1756-OA8, 1756-OA8D, 1756-OA8E, 1756-OA16, 1756-OA16K, 1756-OA16I, 1756-OA16IK, 1756-ON8
The ControlLogix® Architecture provides a wide range of input and output modules to span many applications, from high-speed digital to process control. The ControlLogix architecture uses Producer/Consumer technology, which allows input information and output status to be shared among multiple ControlLogix controllers.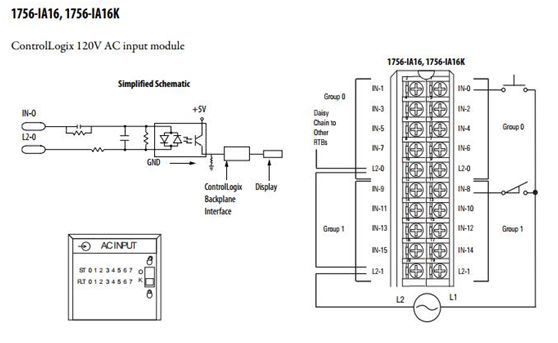 1756-IA16 Specifications –
1756-IA16, 1756-IA16K
Attribute: 1756-IA16, 1756-IA16K
Inputs: 16 (8 points/group)
Voltage category: 120V AC 50/60 Hz Operating voltage range: 74…132V AC, 47…63 Hz
Input delay time (screw to backplane) Off to On
On to Off: Hardware delay: 10 ms max + filter time User-selectable filter time: 1 ms or 2 ms Hardware delay: 8 ms max + filter time User-selectable filter time: 9 ms or 18 ms
Current draw @ 5.1V: 100 mA
Inquiry for All Allen-Bradley
SLC500 1747 1746 series
CompactLogix PLC 1769 series
ControlLogix 1756 1794 1760 1788 series
PLC-5 1771 1785 series
MicroLogix PLC 1761 1763 1762 1766 1764 series
PanelView 2711, 2711P series
ProSoft MVI69 PS69 MVI56 MVI94 MVI71 MVI46 3150
ICS TRIPLEX T8431 T8461 T3401 T8310
Why Choose Us?
1 year warranty
Products are brand new and original
Tested well before shipment
Fast shipping
Bottom price
Thoughful after-sales sevice
Check payment and refund system in time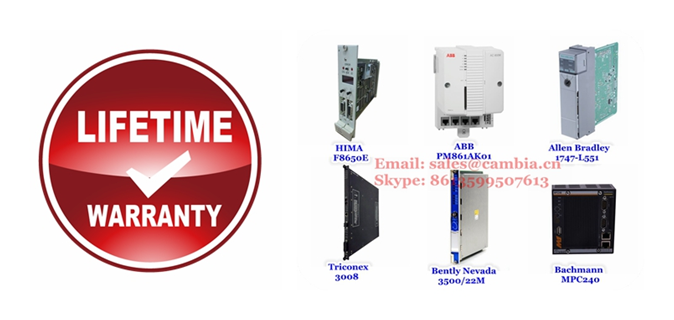 Main Products
Allen-Bradley ABB
Bently Nevada Bachmann
Emerson Foxboro
GE Fanuc Honeywell
Hima ICS Triplex
Ovation Prosoft
Siemens Schneider
Triconex Woodward
Woodhead Yokogawa
Hot Search
| | | | |
| --- | --- | --- | --- |
| 1756-L62 | 1756-OF8 | Bently Mevada | Honeywell |
| 1756-L62S | 1756-A10 | 3500/94 | 10002/1/2 |
| 1756-L63 | 1756-A13 | 3500/93 135799-01 | 10005/1/1 |
| 1756-L63/A | 1756-A17 | 3500/93 135785-01 | 10024/1/1 |
| 1756-L63/B | 1756-A4 | 3500/92 136180-01 | 10024/F/F |
| 1756-L63S | 1756-A7 | 3500/92 | 10201/2/1 |
| 1756-L63XT | 1756-BA1 | 3500/90 | 51196694-928 |
| 1756-L64 | 1756-BA2 | 3500/77M 140734-07 | 51197564-200 |
| 1756-L65 | 1756-BATA | 3500/72M 176449-08 | 51198947-100 |
| 1756-L71 | 1756-CN2 | 3500/72M | 51204160-175 |
| 1756-L71/B | 1756-CN2R | 3500/70M 136449-09 | 51204162-175 |
| 1756-L71S | 1756-CNB | 3500/70M | 51204172-175 |
| 1756-L72 | 1756-CNBR | 3500/65 | 51303932-476 |
| 1756-L72/B | 1756-CP3 | 3500/64M | 51304441-175 |
| 1756-L72S | 1756-DHRIO | 3500/62 | 51304485-150 |
| 1756-L73 | 1756-DMA31 | 3500/61 163179-02 | 51304487-150 |
| 1756-L73S | 1756-DMD30 | 3500/61 | 51304516-250 |
| 1756-L74 | 1756-DMF30 | 3500/60 | 51304754-150 |
| 1756-L75 | 1756-DNB | 3500/53 133388-01 | 51305865-275 |
| 1756-L7SP | 1756-EN2F | 3500/53 | 51305887-150 |
| 1756-LSC8XIB8I | 1756-EN2T | 3500/50M 286566-02 | 51305900-175 |
| 1756-LSP | 1756-EN2TR | 3500/50M | 51306733-175 |
| 1756-M02AE | 1756-EN2TXT | 3500/50 133388-02 | 51307149-175 |
Contact Freely
Contact Person: Trixie
Email: sales@cambia.cn | Skype: 86 1359950 7613