The protection of the most beautiful wetlands practices garbage classification
10-07-2019
WuYuanWan wetland park is the largest park and wetland ecological park in Xiamen.It not only shows beautiful scenery to people, but also bears the responsibility of protecting the bay and the environment. Because of the beautiful scenery and open park, a large number of tourists come here to play, and a large amount of garbage comes with it.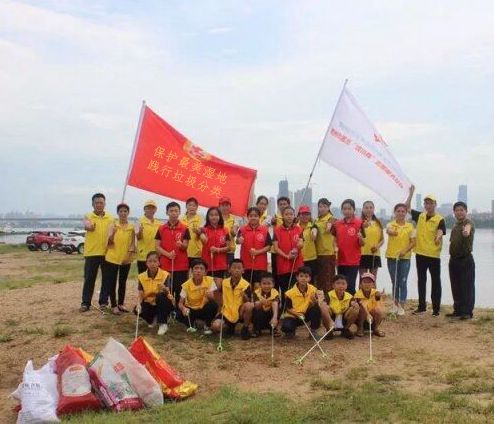 In order to protect wuyuanwan wetland park, our company organizes the activity of "protecting the most beautiful wetland and practicing garbage classification", which is carried out in WuYuanWan wetland park with some children.
On Sunday morning, after all the environmental protection volunteers gather, they will be given garbage clips, garbage bags and other tools.In the cleaning activities, everyone hands a garbage bag, carefully clean up the roadside, pedestrian path and bike path on both sides of the cigarette scraps, plastic bags and cracks are not easy to see cigarette butts and other garbage.In the process of picking up, encounter uncivilized behavior, take the initiative to persuade, with "protect beautiful homeland, from my childhood start" the actual action to infect people around.
We provide
| | | |
| --- | --- | --- |
| 3300/46 | 2711P-B6C20D | KJ4010X1-BF1 12P0831X072 |
| 3300/35 | 2711P-RC3 | KJ4010X1-BG1 12P0830X062 |
| 3300/35-13-01-01-00-02 | 2711P-RN10C | KJ4010X1-BG1 12P0830X072 |
| 3300/25 | 2711P-RN6 | KL4201X1-BA1 |
| 3300/20 | 2711P-RP1 | PCM-11 |
| 3300/20-13-03-01-00-00 | 2711P-T10C4D1 | PR6423/000-031 |
| 3300/20-12-01-01-00-00 | 2711P-T10C4D2 | PR6423/002-0030 CON021 |
| 3300/20-05-03-01-00-00 | 2711P-T10C4D8 | PR6423/00R-101 CON031 |
| 3300/16 | 2711P-T12C4D8 | PR6423/010-010 CON021 |
| 3300/16-15-01-03-00-00-00 | 2711P-T12C6B2 | PR6426/010-140 CON021/916-240 |
| 3300/16-13-01-01-00-00-00 | 2711P-T12C6D2 | SE4601T07 KL4201X1-BA1 |
| 3300/15 | 2711P-T15C4D1 | VE4001S2T2B4 |
| 3300/14 | 2711P-T15C4D8 | VE4002S1T1B2 KJ3001X1-BG1 12P0557X162 |
| 3300/05-23-00-00 | 2711P-T7C4D8 | VE4002S1T2B2 KJ3202X1-BA1 12P2536X032 |
| 3300/03 3300/03-01-00 | 2711-T10C8X | VE4002S1T2B4 KJ3202X1-BA1 12P2536X042 |
| 3300/03-01-00 | 2711-T10G20 | VE4002S1T2B5 KJ3204X1-BA1 12P3275X022 |
| 3500/05-01-02-00-00-01 | 2711-T5A10L1 | VE4003S2B1 12P3270X022 |