The 21st China international industry expo opens today
17-09-2019
By the national ministry of industry and information technology, the national development and reform commission, ministry of commerce, ministry of science and technology, Chinese academy of sciences, Chinese academy of engineering, China council for the promotion of international trade, the United Nations industrial development organization (unido) and the Shanghai government hosted the 21st session of China international industry fair , 17 solstice in September 21, held at the national convention center (Shanghai).
The theme of the expo is "smart, connected -- new development of energy industry". Intelligent and networked manufacturing has become a new trend in the development of today's manufacturing industry. It not only reshaped the mode and process of production, but also gave new impetus to the value upgrading of traditional industries. It also gave birth to new business models and emerging industries, adding new driving forces to industrial development.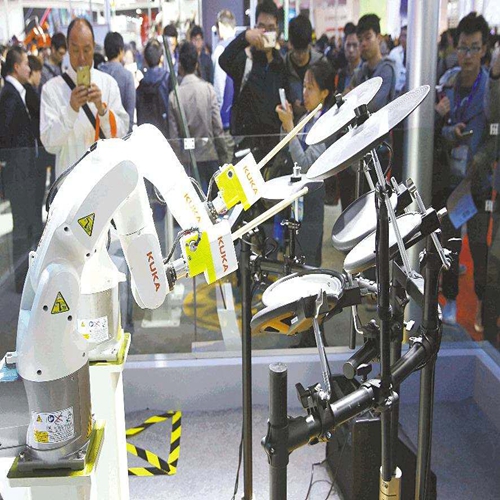 With an area of 280,000 square meters and a total of nine exhibition areas, the 21st China international industrial fair will focus on showcases of new achievements in industrial development driven by smart and interconnected technologies, products and services. The exhibition covers the whole industrial chain of intelligent green manufacturing, from basic materials and key parts of manufacturing to advanced manufacturing equipment and overall solutions. It will systematically display the latest products, services and cutting-edge innovations in key areas such as CNC machine tools, robots, industrial automation, new-generation information technology (industrial Internet), energy conservation and environmental protection, energy technology and equipment, new energy intelligent networked automobiles, and new materials.
More than 2610 exhibitors participated in the expo. In terms of structure, enterprises from other provinces and cities participated in 6,697 exhibition booths, accounting for 48.7 percent of the total. Eleven provinces, autonomous regions and municipalities including heilongjiang, hebei, shaanxi, anhui, guangxi, henan and sichuan organized delegations to participate in the exhibition. There are 4,043 overseas exhibition booths, accounting for 29.02%, and 27 countries and regions including the United States, Germany, France, Israel, among which Japan, Germany, Russia, Switzerland, Turkey and other countries will participate in the exhibition. Shanghai has 3,192 exhibition booths, accounting for 22.91%. It is expected that the exhibition will attract more than 170,000 professional visitors at home and abroad.
Cambia Automation Limited is an trade company in China.We main business have Bently Nevada , Honeywell , ABB , Allen Bradley , GE Fanuc , Triconex , Siemens ,etc.
We also provide safely expresses with responsibility and credit in a fast delivery period.
We look forward to cooperating with you for our beautiful future.
We currently stock over 12000+ branded products.
Hot sale
| | | | |
| --- | --- | --- | --- |
| 8C-PAIMA1 51454473-175 | 6ES7153-1AA03-0XB0 | TM221CE16R | 2WOT015550 |
| 8C-PDILA1 51454471-175 | 6ED1055-4MH00-0BA0 | SR2PACKBD | 3DOT000296 |
| 8C-PDODA1 51454472-175 | 6ED1052-2FB08-0BA0 | TM241CEC24T | 3MOT001930 |
| TK-IOLI01 51403427-275 | 6ES7212-1BE40-0XB0 | TM251MESE | D3CL28055 |
| 51304487-150 MC-PDOX02 | 6ES7214-1GH40-0XB0 | TM221CE40R | T40P-R |
| 51304485-150 MC-PC1X02 | 6ES7512-1SK01-0AB0 | BMEXBP0800 | 350-980 |
| 8C-TDODA1 51307149-175 | 6ES7214-1BG40-0XB0 | TM221CE16T | 3162092 |
| LL MC-PD1X02 51304485-150 | 6ED1055-1NB10-0BA2 | TM221C16R | 9014156 |
| MC-PAIH03 51304754-150 | 6SL3255-0AA00-4CA1 | SR3PACK2BD | 9046556 |
| MC-IOLX02 51304419-150 | 6AV6647-0AH11-3AX0 | BMEXBP0400 | FBM-A013 |
Contact: Trixie | Tel: 13599507613