Talent training like fruit, innovation and science and technology deduce the wisdom of the future
26-08-2019
Chengdu, China, Aug. 24 -- the Internet of things is making people's lives more and more intelligent. Smart mirror recommends skin care procedures and breakfast recipes; The utilization rate of indoor basketball arena is getting higher and higher. Even under special weather, the loss and damage of fishermen's nets can be effectively avoided. These ideas are all based on the Niagara Framework® technology, and are all from the winning entries of the 2019 honeywell Internet of things business application competition held at sichuan university today.
The 2019 honeywell iot business applications competition, based on the national university biometric design competition, aims to encourage and honor teams applying Tridium'sNiagara Framework®, an open software Framework for the Internet of things. Since it was launched in April this year, it has received positive response from teachers and students of many colleges and universities. Finally, eight teams entered the national finals and attended the award ceremony of the finals held in sichuan university today. Tridium is a wholly owned subsidiary of honeywell.
In this competition, the total number of participating teams choosing Niagara Framework® technology platform has reached a new high, covering multiple themes such as smart agriculture, smart buildings, smart chain, smart factory, and smart medical treatment. Finally, the "Niagara based intelligent unmanned breeding system" project from Harbin normal university and the "Niagara based air quality monitoring system" project from Beijing university of technology won the first prize. The "intelligent mirror based on cloud AI and intelligent home scene" project of east China university of science and technology and the "Niagara based intelligent control system design of basketball stadium" project of school of software of tianjin university won the "best commercial value award". Four others won the most commercial potential awards. The "best popularity award" of the competition was voted by WeChat and finally went to the "laboratory multi-mode security situation monitoring cloud platform" project of sichuan university.
This year's competition was judged by usability, innovation, integrity, business value, and the use of Niagara Framework® technology. The eight finalists also have a simulated space plant cabin environmental management system, which can transmit the collected data and images of plant growth and its surrounding environment to botanists for their experimental guidance and data analysis. Some teams focus on intelligent breeding management, forming a set of intelligent unmanned breeding system from infants to outdoor. Some projects focus on medical services, designing robot systems that deliver drugs to patients or elderly people in place of nurses, and use face recognition to realize machine startup, multi-machine communication and other functions. Other projects focus on laboratory safety incidents and build a complete laboratory safety situation monitoring system.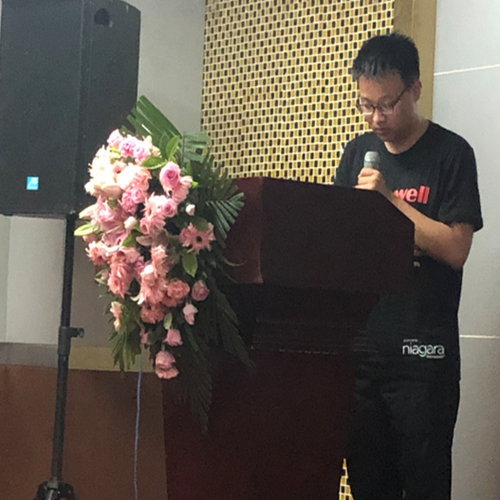 "National university biological networking design competition" has been established since 2014. It is the only subject competition in the field of Internet of things sponsored by the teaching steering committee of computer science majors in colleges and universities of the ministry of education. Tridium, a key partner in the competition, has been supporting the competition for two consecutive years and has established the honeywell Internet of things business applications competition.
In order to better support the competition and the deep integration of industry, learning and research, Tridium has also announced the establishment of a core panel of experts on Internet of things education from various universities. They will support Tridium's university of the Internet of things initiative to help make it sustainable.
Cambia Automation Limited specializes in sales of industrial automation components. Products include DCS control system cards, programmable PLC module SPS, CNC panel controllers, inverters, server drivers and various robots parts。
Trixie|+86 13599507613