Siemens industrial network experts plan to build the strongest industry ecology
21-08-2019
Nowadays, the wave of digitization has swept across the world, and the digitization transformation of various industries is in full swing. In order to continue to occupy a place in the fierce competition in the future, enterprises are constantly increasing their investment in digitization. At present, the integration of IT (information technology) and OT (operation technology) is the focus of enterprises and one of the difficulties of digital transformation. For enterprises, what they need is no longer a simple data transmission channel, but a full planning and definition of it to establish a communication platform that can organically integrate enterprise and factory production systems. In order to fully meet the new market demand, Siemens officially launched the Siemens industrial network expert program in China one year ago.
Siemens trumpets the rallying cry for the industrial communications industry
Industrial communication networks are far more complex than traditional office networks. Experts estimate there will be 15 billion connected smart machines by 2020. At the same time, the amount of data will increase dramatically. Therefore, the successful planning, design and implementation of the future industrial communication network requires experienced partners with a deep understanding of automation and the industry as a whole. Siemens is based on this trend to build "Siemens industrial network expert program". This program includes five modules: expert-level industrial communication and identification products, expert-level industrial network industry experience and knowledge, one-stop industrial network expert service, industrial network expert partner development plan and training and certification system. Siemens has decades of experience in industrial communications and has been providing industrial Ethernet solutions since 1985. Siemens industrial communications products and solutions have been used throughout the factory automation LAN communications, wireless telecommunications, and across the wan and Internet to create a complete data channel to the cloud. At the same time, Siemens has provided digital enterprise solutions to hundreds of Chinese enterprises in China, covering dozens of industries including automobile, electronics, textile, aerospace, petroleum and petrochemical, pharmaceutical, food and beverage, etc., with a large amount of industrial expertise and experience.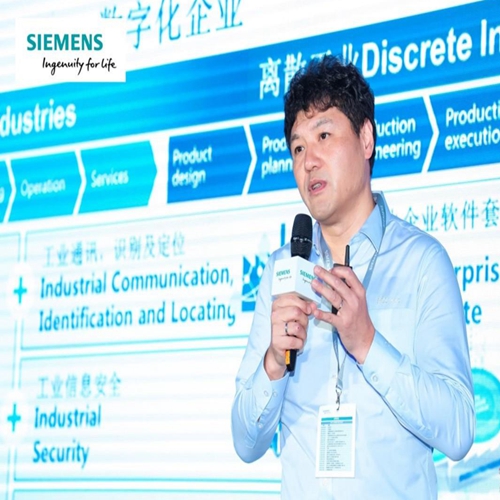 At the same time, in order to put the circle of friends to develop digital, Siemens through "industrial network specialist plan" create your own "mastermind alliance", on the one hand, to find experts in the field of technology and the OT and partners, to expand coverage more industry industrial communications solutions, on the other hand through the related training to help them become industrial network specialist, help more industrial customers in the industry to realize digital. IT is well known that the convergence of IT and OT is the key to the digital transformation, but the connection between the two is not as "hit IT off" as expected. In the IT world, network security and data reliability are the most important, while in the OT world, equipment availability and process stability are more important, and simple "connections" cannot help enterprises achieve their digital goals. In different industrial application environments, the structure, equipment status and industrial details of the factory itself are not the same. Therefore, there is no general solution for the industrial field. Instead, industrial communication solutions need to be customized according to the needs of different industries and different customers.
Cambia Automation Litimed is a company engaged in electronic products trading company. The company was established in 2016, has many famous enterprises at home and abroad to establish a long-term friendly business relationship.The company specializes in sales of industrial automation components. Products include DCS control system cards, programmable PLC module SPS, CNC panel controllers, inverters, server drivers and various robots parts.
Hope we can cooperate!
sales@cambia.cn & 86-13599507613 TO Trixie
More Siemens Module
Siemens Moore
Siemens SINAMICS
Siemens Simadyn
Siemens Simatic C1 C2 C3
Siemens Simatic HMI
Siemens Simatic S5 S7
Siemens 6DD series,6DP series, CPU