Hit ABB 2019 expo: let me get closer to you
20-09-2019
As old friend of the exhibition, ABB, on the one hand, reveal its future factory in automation, connected in a series of innovative digital products, solutions and services, on the other hand, through on-site application scenarios, reveal to the general public, from factory floor to daily life, from the physical world to the virtual world, ABB is more close to the life of the masses.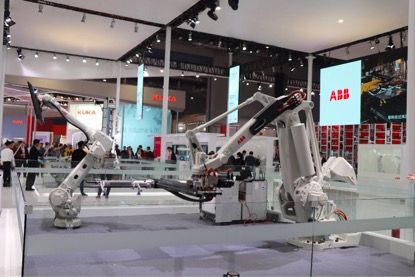 Build a smart life: from the factory to life
Personalized customization, intelligent manufacturing important label.
This year, ABB showed off a "factory of the future" for making watches: a batch of custom watches assembled in real time. Consumers select the strap, dial and other relevant information according to their preferences on the panel, and ABB's series of flexible and efficient digital products make all these become finished products quickly.
Collaborative robot YuMi® picks up and places watch parts to play its excellent assembly accuracy; SuperTrak flexible conveyor system ensures timely movement of parts from one station to another.
Behind this is a pair of "smart eyes" to observe and optimize the production process, which is the PickMaster® Twin, ABB's latest digital Twin technology. Using this technology, operators can control different production steps and simulate quality checks, taking necessary interventions to optimize the production process.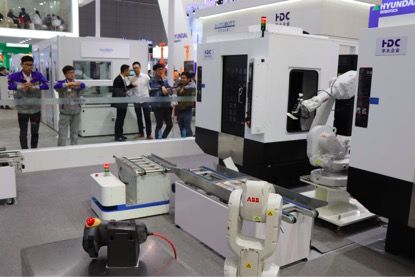 Intelligent logistics solution is also an "you order, I ship" application scenario. The intelligent logistics integrated station consists of three parts: IRB 4600 robot material box and carton storage unit, IRB 1200 robot material sorting unit, and IRB 4600 robot stacking unit.
In these three links, it is worth mentioning that IRB 1200 sorting station. After the material boxes containing various commodities reach this station, IRB 1200 will use artificial intelligence vision algorithm and deep learning to identify different products in the material boxes, and use ABB's customized flexible fixture to sort out the commodities ordered by consumers.
Build a smart China: take every step of development
There is no doubt that China is developing at a very fast pace and wisdom is gradually permeating every aspect of life.
From the perspective of the development of ABB robots in China, li gang, head of ABB China robotics and discrete automation division, divides it into three stages.
The first stage, 1994-2005, key words: application pioneer
As early as 1994, ABB robots began to promote the application of industrial robots in the Chinese market. In 1995, the automobile industry took the lead in using 6 ABB robots on the assembly line of a certain brand of automobile. Subsequently, in 1998, it successfully built the first automatic handling line in China's tobacco industry, the first automatic assembly and polishing production line in China's mobile phone industry in 2000, and the first automatic punching line of China's rotating seven-axis robot in 2005.
Phase 2, 2005-2012, keywords: full localization
ABB opened its global robotics research and development center in Shanghai in 2005 and began manufacturing robots there. In 2009, ABB launched its first small robot, IRB 120. In 2010, the first vehicle spraying laboratory was established in China. In 2012, the world's first robot quality center was established in Shanghai.
The third stage, 2012-2019, key words: innovation and development
ABB robot (zhuhai) co., LTD and ABB robot Qingdao application center were established in 2015. ABB robot chongqing application center was established in 2016. With the addition of b&c, ABB has further developed a series of leading solutions in electronics, automotive, food and beverage, white goods, printing and other industries. In 2018, a new robot future factory was announced in Shanghai.
Looking back at the development process of ABB robot, ABB carries out the whole value chain business of robot in China from r&d, production, sales, engineering, system integration to service.
CAMBIA AUTOMATION LIMITED always make the best staff and spare parts together, professional multilingual service team, adhere to provide customers with first-class service.
Company products cover DCS control system card, programmable PLC module SPS / CNC panel controller / inverter / server driver and various parts of the robot.
Our company's products a large number of spot new genuine, and through professional testing.

If you are interested in this product, please contact us, we will serve you wholeheartedly.
Want to buy best parts with a competitive price ? Please check it with Email: sales@cambia.cn ! we will response you in 24 hours!
ABB Advantage products

SAFT190APC SAFT 190 APC

SAFT112POW SAFT 112 POW
YXO116 4890024-LC
SNAT0100-6B SNAT 0100-6B 61054588 5761852-3B
6638910B1 638910B1PS0084
PU515A 3BSE032401R1
XI16E1 1SBP260100R1001
3HNE00313-1
YT296000-MZ YXU149B YXU 149B
DSMB144 57360001-EL
C1900/0263/0260A C1900/0263
DSMB151 57360001-K
YXU149 YT296000-RX
C1900/0363 C1900/0363/0360A
DSMB114 57360001-MG