Bentley 3500 system 3500/22m
26-11-2019
Bently Nevada product structure diagram:

I. monitoring system
1. Continuous online monitoring system
A. 3500 series
B. 3300 series
C. 1900 series

Ii. Sensor
1. Eddy current sensor
2. Speed and acceleration sensor
3. Pressure sensor
4. Shell expansion and valve position sensor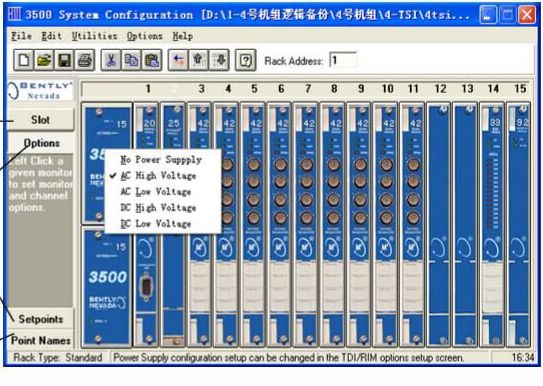 Monitoring system

Bentley Nevada company production monitoring and protection system is mainly used in large rotation and reciprocating machinery body vibration monitoring and protection, such as our air compressor and system of the oxygen compressor is applied the BENTLY vibration system, for turbine unit for speeding is one of the most dangerous situation, so you must install the overspeed protection system. Bentley has developed an electronic overspeed monitoring system consisting of eddy current sensor and overspeed protection monitor. There are 3300 and 3500 vibration measurement systems in our application. This time, the 3500 vibration measurement system adopted by 23500 oxygen generator is mainly introduced.
3500 monitoring system is the zui new machine detection system, this system can collect through a variety of sensor data as a system, to provide continuous, online monitoring function, suitable for mechanical protection application, it is bentley Nevada framework in the form of the traditional system of strong function zui, zui flexible system, other systems do not have many kinds of performance and advanced function.
Parts of bentley products
| | |
| --- | --- |
| Part No. | Description |
| 3500/05 | Rack |
| 3500/06 | Weatherproof Housing |
| 3500/08 | Diagnostics Access Panel |
| 3500/15 | Power Supply |
| 3500/20 | Rack Interface Module |
| 3500/22M | Transient Data Interface Modul |
| 3500/25 | Enhanced Keyphasor Module |
| 3500/32 | 4-Channel Relay Module |
| 3500/33 | 16-Channel Relay Module |
| 3500/34 | TMR Relay Module |
| 3500/40M | Proximitor Monitor |
| 3500/42 | Proximitor/Seismic Monitor |
| 3500/44M | Aeroderivitive GT Vibration Monitor |
| 3500/45 | Position Monitor |
| 3500/46 | Hydro Monitor |
| 3500/50 | Tachometer Module |
| 3500/53 | Electronic Overspeed Detection Module |
| 3500/60 | Temperature Monitors |
| 3500/61 | Temperature Monitors |
| 3500/62 | Process Variable Monitor |